Looking for the best sayings and quotes about Texas?
There are plenty to choose from!
Texas is larger than life. Its wide skies are eternal, its tenaciousness is neverending, and its legend is big enough that it reaches far beyond the USA.
It's no surprise, then that there are an endless number of incredible Texas quotes out there!
From musicians to politicians, celebrated American writers to sports stars, Texas has a way of inspiring opinions (and Texans have a way of sharing theirs without holding back).
Here are some of the best–and most timeless–famous quotes about Texas.
Some links in this post may be affiliate links. If you make a purchase through one of these links, we may earn a small commission at no extra cost to you. Please see our

disclosure policy

for more detail.
"Texas is the finest portion of the globe that has blessed my vision." — Sam Houston
"Texas is a state of mind. Texas is an obsession. Above all, Texas is a nation in every sense of the word. And there's an opening convey of generalities. A Texan outside of Texas is a foreigner." — John Steinbeck
"GONE TO TEXAS."
Gone to Texas isn't a quote about Texas, per se–more of a declaration.
Used starting in the 19th century, it signifies a new start in the Lone Star State.
"Most Americans can cover their home state in less than a week. In Texas, if you concentrate and work at it steadily, you can traverse your territory by about age thirty-seven." — Rosemary Kent
"Texas is neither southern nor western. Texas is Texas." — William Blakelyfclar
"I have said that Texas is a state of mind, but I think it is more than that. It is a mystique closely approximating a religion. And this is true to the extent that people either passionately love Texas or passionately hate it and, as in other religions, few people dare to inspect it for fear of losing their bearings in mystery or paradox.
But I think there will be little quarrel with my feeling that Texas is one thing. For all its enormous range of space, climate, and physical appearance, and for all the internal squabbles, contentions, and strivings, Texas has a tight cohesiveness perhaps stronger than any other section of America.
Rich, poor, Panhandle, Gulf, city, country, Texas is the obsession, the proper study, and the passionate possession of all Texans." — John Steinbeck
"Texas is a blend of valor and swagger." — Carl Sandburg
"Don't mess with Texas." — Texas Department of Transportation
Only Texans could turn an anti-littering slogan into a catchphrase for Texas pride.
I've heard this phrase my whole life, and sure, seen it on plenty of signs along Texas highways, but literally had no idea that the phrase originated as an anti-littering slogan in the 1980s until researching this Texas quotes post (though apparently, it's an age thing: I mentioned it to my dad and he definitely knew the story)!
"Texas history is a varied, tempestuous, and vast as the state itself. Texas yesterday is unbelievable, but no more incredible than Texas today. Today's Texas is exhilarating, exasperating, violent, charming, horrible, delightful, alive." — Edna Ferber
"In Texas, we practically come out of the womb in jeans." — Kelly Clarkson
"There is a growing feeling that perhaps Texas is really another country, a place where the skies, the disasters, the diamonds, the politicians, the women, the fortunes, the football players, and the murders are all bigger than anywhere else." — Pete Hamill
"Texans ignore 'better,' long ago forgot the useless word 'good.' Everything in Texas is 'best.'" — Edward Smith
"Some folks look at me and see a certain swagger, which in Texas is called 'walking.'" — George W. Bush
"A born Texan has instilled in his system a mindset of no retreat or no surrender. I wish everyone the world over had the dominating spirit that motivates Texans." — Billy Clayton
"Today Texas is like a patchwork quilt. Cowboys still exist, although now they use jeeps or helicopters to round up animals. Oil is still important, although new gushers like Spindletop don't happen often anymore.
Texas is still a frontier state, but today the pioneers are conquering space, the final frontier, from the National Aeronautics and Space Administration (NASA) space center in Houston." — Rachel Barenblat
"Texas does not, like any other region, simply have indigenous dishes. It proclaims them. It congratulates you, on your arrival, at having escaped from the slop pails of the other 49 states." — Alistair Cooke
"To me, it's really the heart of Texas. You don't know the Lone Star State until you've experienced Gruene Hall." — Miranda Lambert
"I've traveled all over the world, but I don't think there is any place better than Texas." — Red Adair
"I love Texas because Texas is future-oriented because Texans think anything is possible. Texans think big." — Phil Gramm
"There is a special mystique to Texas. Texans represent many things to the uninitiated: We are bigger than life in our boots and Stetsons, rugged individualists whose two-steppin' has achieved worldwide acclaim, and we were the first to define hospitality." — Ann Richards
"There's no better place than Texas to start over." — John Connelly
"I'd rather be a fencepost in Texas, than the king of Tennessee." — Chris Wall
"People from all over the United States can pick Texas out on the map. Even if they're not American, people know about Texas.
All over the world, traveling Texans tend to identify as Texan rather than American, because, well, we get treated like celebrities when we do." — Elizabeth Abrahamsen
"If a man's from Texas, he'll tell you. If he's not, why embarrass him by asking?" — John Gunther
"Like most passionate nations, Texas has its own history based on, but not limited by, facts." — John Steinbeck
"If you've ever driven across Texas, you know how different one area of the state can be from another. Take El Paso. It looks as much like Dallas as I look like Jack Nicklaus." — Lee Trevino
"The sky in Texas is the most amazing sky in the whole world. I think you can see more sky in Texas than you can see anywhere else in the world." — Idina Menzel
"You don't just move into Texas. It moves into you." — Manny Fernandez
"What you Northerners never appreciate… is that Texas is so big that you can live your life within its limits and never give a damn about what anyone in Boston or San Francisco thinks… A writer can build a perfectly satisfactory reputation in Texas and he doesn't give a damn about what critics in Kalamazoo think.
His universe is big enough to gratify any ambition. Same with businessmen. Same with newspapers. Same with everything." — James Michener
"I thought I knew Texas pretty well, but I had no notion of its size until I campaigned it." — Ann Richards
Fun fact: Texas is bigger than all of Western Europe combined!
"I think Texans have more fun than the rest of the world." — Tommy Tune
"You all can go to hell, and I will go to Texas." — Davy Crockett
"Only Texas could turn defeat into a legend–and a song, and a tourist attraction, and a major motion picture." — Rosemary Kent
In early 1836, around 200 Texans (some of whom are legends in the state today, including Sam Houston, Davy Crockett, and William Travis), held the Alamo against the Mexican army for 13 days, most of the defenders of the Alamo dying in the process.
While the battle itself was a loss for Texas, the bravery of the defenders quickly became a Texas legend, and "Remember the Alamo" has been a rallying cry ever since, including as Texas fought for (and won) independence later that same year.
The Alamo remains one of the most popular tourist attractions in Texas today, proving that a defeat can be inspiring for at least 200 years–when I was in elementary school, we even traveled all the way from Austin on a field trip to visit the Alamo when studying Texas history.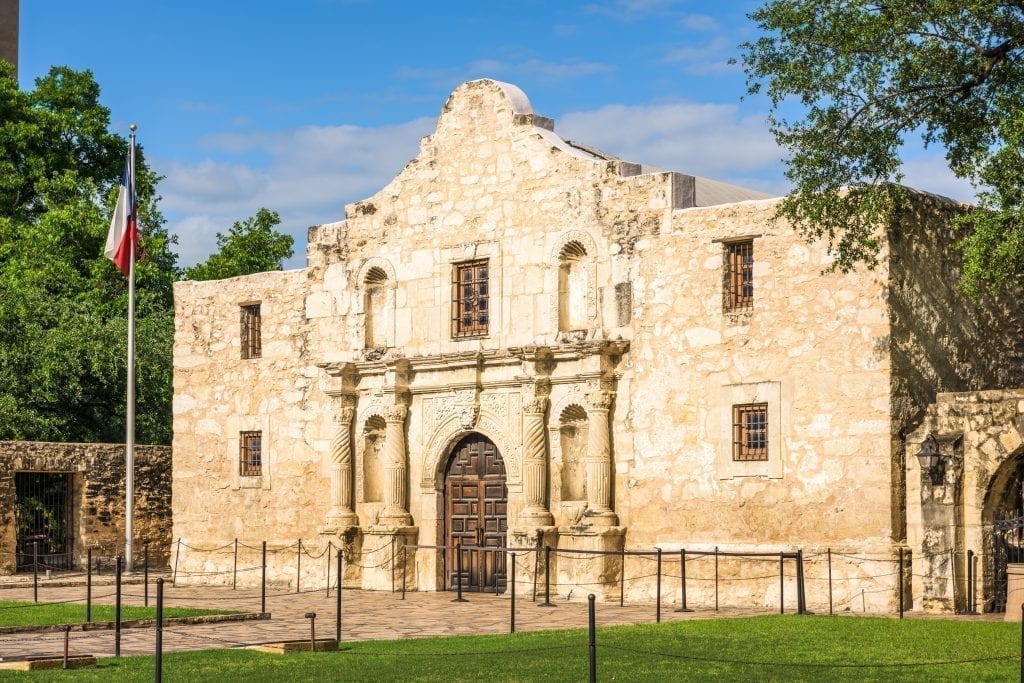 "Who are these people, these Texans? What do they tell us about America? What to make of a state that is so focused on itself? I wrestle with these questions all the time.
One day, behind a general store in Central Texas, a firearms instructor in a wide-brimmed cowboy hat reached for the butt of his holstered gun as I approached him for an interview. The general store, the hat, the reach for the gun: the line between the myth of Texas and the reality of Texas is razor-thin." — Manny Fernandez
"I must say as to what I have seen of Texas it is the garden spot of the world.
The best land and the best prospects for health I ever saw, and I do believe it is a fortune to any man to come here. There is a world of country here to settle." — Davy Crockett
"There's a vastness here and I believe that the people who are born here breathe that vastness into their soul. They dream big dreams and think big thoughts, because there is nothing to hem them in." — Conrad Hilton
… As a Texan, I have to say, I have a special affinity for that potential Texas caption.
Enjoy these Texas quotes and consider planning a trip within the Lone Star State?