Nicknamed the Grand Canyon of Texas, Palo Duro Canyon is the second-largest canyon in the USA and an absolutely fantastic place to visit.
Nestled in the Texas panhandle less than an hour from Amarillo, Palo Duro Canyon seemingly descends out of nowhere: after hundreds of miles of extremely flat plains, the world simply sinks, revealing the beauty of Palo Duro Canyon.
Considering a visit to Texas' Palo Duro Canyon?
Here are the best things to do in Palo Duro Canyon, plus everything you need to know before you go!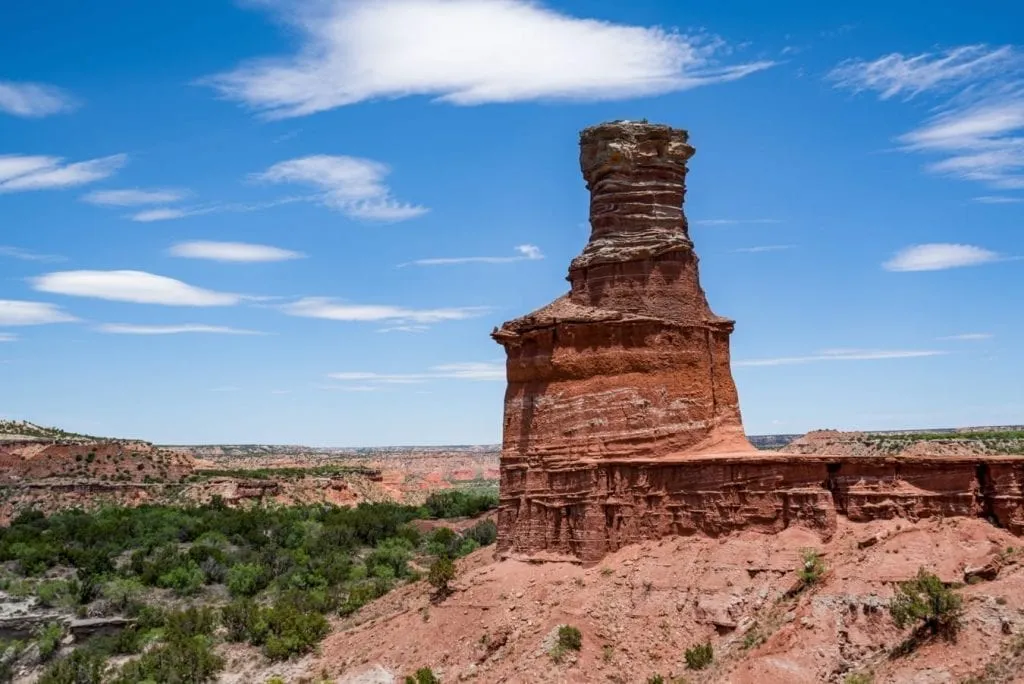 Some links in this post may be affiliate links. If you make a purchase through one of these links, we may earn a small commission at no extra cost to you. Please see our

disclosure policy

for more detail.
The Best Things to Do in Palo Duro Canyon State Park
Hike to the Lighthouse.
Without a doubt, the most famous and popular rock formation in Palo Duro Canyon is the Lighthouse–and both the stunning rock formation itself and the views of the canyon below it definitely lives up to expectations!
The Lighthouse trail is 5.7 miles roundtrip, and while most of the trail is fairly easy, the last half mile or so as you ascend to the Lighthouse is extremely steep, so keep that in mind before you begin!
… and then a few other trails.
While the Lighthouse might be the most popular trail in Palo Duro Canyon, it's far from the only option.
Other beautiful trails include the CCC Trail (2.7 miles roundtrip), Capitol Peak (3.2 miles roundtrip), and the Givens, Spicer, and Lowry Trail (6.4 miles roundtrip).
You can even combine several trails for a more challenging or engaging hike–for example, we combined the Givens, Spicer, and Lowry Trail with the Lighthouse trail for an absolutely amazing trek.
You can download a copy of the Palo Duro Canyon trail map here.
Drive the Palo Duro Canyon Loop.
The road through Palo Duro Canyon is a loop, and while you can drive it in half an hour or so, plan on the process taking longer–there are lots of beautiful places to stop along the way!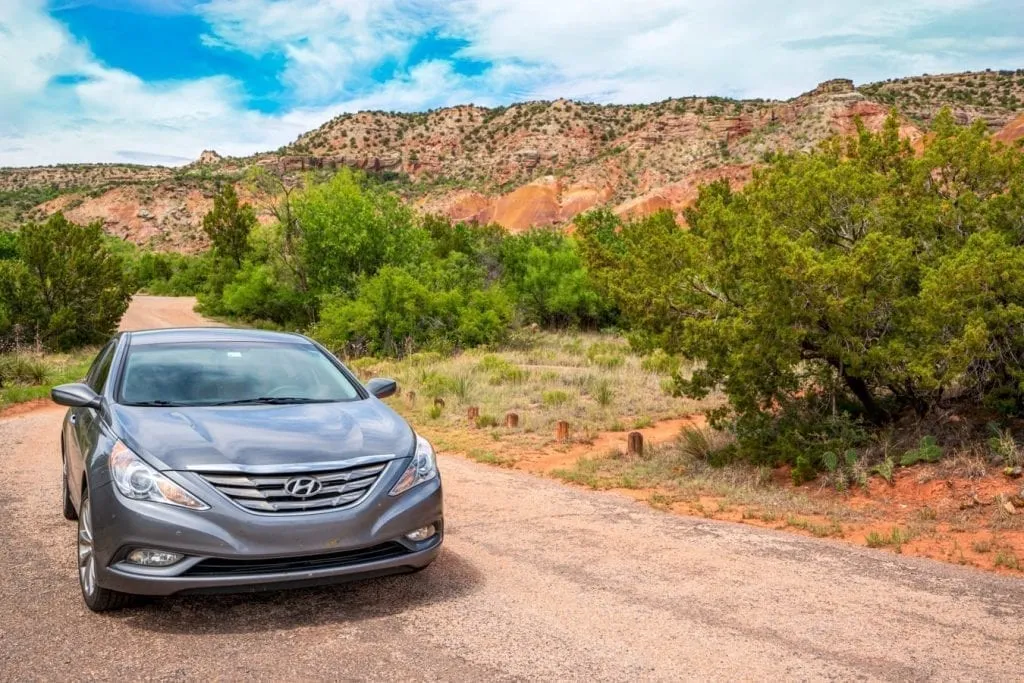 Go horseback riding.
There are several companies offering horseback rides in and around Palo Duro Canyon, virtually all of which are very family and first-time-rider friendly.
If you'd like to enjoy beautiful views from horseback, consider adding a ride to your list of things to do in Palo Duro Canyon.
… or take a Jeep tour in the canyon.
Not into horses, but still want to enjoy some views without a hike?
Jeep tours are another fun way to experience the canyon!
Spot Texas longhorns in the Longhorn Pasture.
Texas longhorns are synonymous with the state–and if you're not native to the region, you may never have seen these distinct cattle in person!
Palo Duro Canyon is home to a portion of the official State of Texas Longhorn Herd, which exists as a part of an effort to conserve the breed.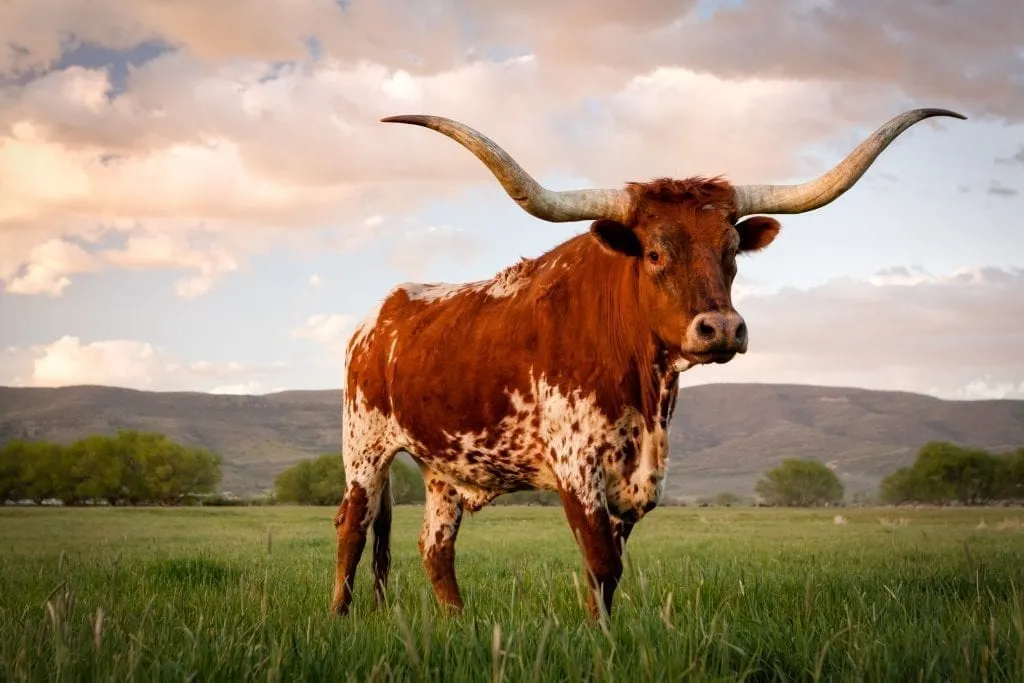 Stay overnight to enjoy incredible stargazing.
Palo Duro Canyon's rural setting combined with the giant Texas skies make for some absolutely phenomenal stargazing–consider staying overnight in the park to enjoy the sky at its finest.
Enjoy the view from the Visitor's Center.
If you're looking for a beautiful first stop on your visit to Palo Duro Canyon, head to the Visitor's Center: not only will you be able to get your bearings and decide where to head next before descending into the canyon, the views from outside the building are magnificent.
Go ziplining over the canyon.
For a completely unique view of the canyon, try zip lining!
There's a zipline located just before the entrance to Palo Duro Canyon State Park, and while it doesn't pass over the canyon, you can see great views of the canyon from it.
Check out the Big Cave.
Views in, around, and of the Big Cave are incredibly fun to experience, and as the cave is visible from the road, they're not hard to access, either.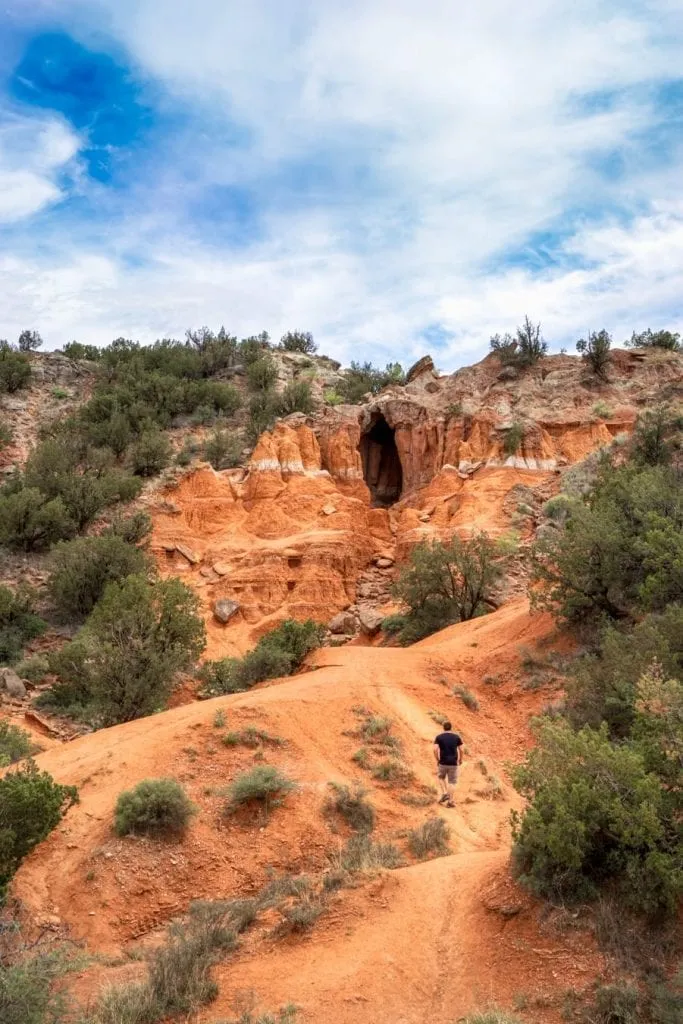 Spend an evening at the Texas Outdoor Musical.
From June-August each year, from Tuesday-Sunday each evening, the Texas Outdoor Musical is performed in the Pioneer Amphitheater inside the park.
The show is family-friendly and bills itself as a "musical romance of Texas panhandle history", and is definitely one of the most unique things to do in Palo Duro Canyon–not many state parks in Texas include regular theater performances!
You can find more information on the show here.
Tips for Visiting Palo Duro Canyon in Texas
Bring lots and lots of sunscreen, plus a hat.
Sun protection is critical when exploring Palo Duro Canyon: the heat and intense sun of the desert are not to be underestimated!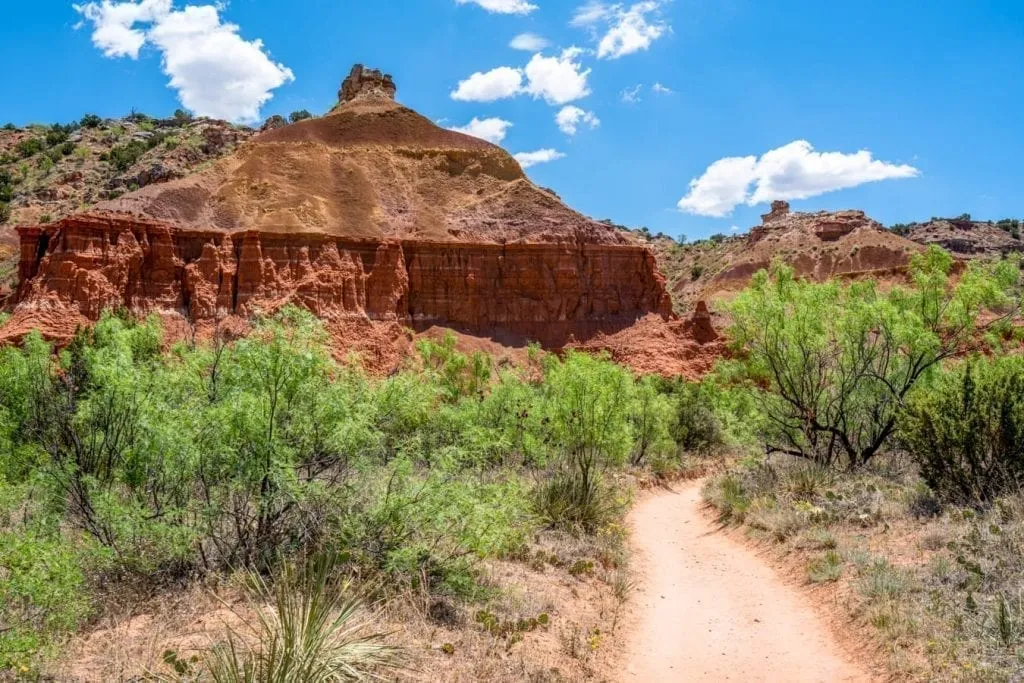 … and more water than you think.
The official recommendation is one quart of water per person, per mile. Don't underestimate how thirsty you'll be in the heat!
If you're heading out for more than a couple of hours, consider freezing some of your water bottles so they'll (hopefully) still be cold by the time you need them.
Keep in mind that the canyon floor is much hotter than the rim.
Estimates vary, but it's a good rule of thumb to plan on the canyon floor being about 10 degrees warmer than the rim.
Especially during the summer months, it's important to keep that heat discrepancy in mind!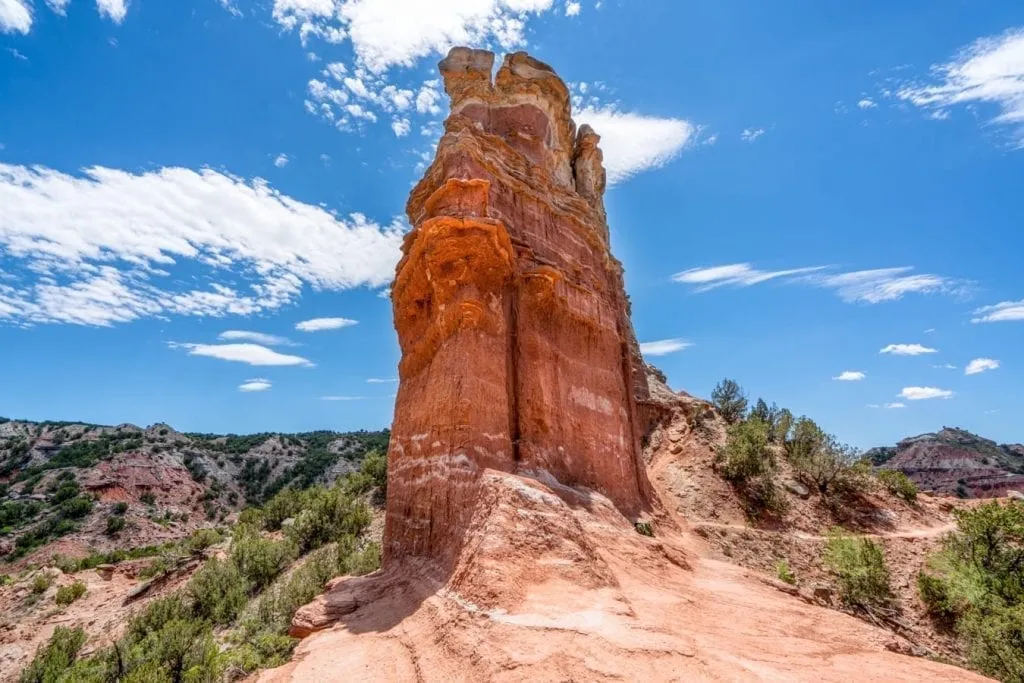 Start your hikes early in the morning.
Not only will you avoid the crowds and experience absolutely gorgeous light in the canyon that way, you'll also be able to hike for several hours before the heat reaches its highest point of the day.
Keep an eye out for cacti.
This is especially important if you're not used to hiking in deserts with cacti: in some places, there are cacti in and near the trails, and you definitely don't want to accidentally touch one!
There is a small store in the park.
The Palo Duro Trading Post is located along the loop drive and includes a casual restaurant and souvenir shop in addition to selling some groceries and camping supplies.
Beware the biting horse flies.
Believe me–their bites sting!
Bring bug spray on your trip to Palo Duro Canyon to ward off the flies.
Where to Stay When Visiting Palo Duro Canyon
Where to Stay Outside the Park
If you're not planning on camping or renting a cabin, you'll want to stay in the town of Canyon, home to West Texas A&M University and some of the closest hotels to Palo Duro Canyon.
The town is about 10 miles from the entrance to Palo Duro Canyon, so you'll have a bit of a drive to the park each morning–but there are plenty of windmills, flat plains, and farms to look at along the way.
There aren't a lot of hotels to choose from, but there is a handful. We stayed in the Best Western Palo Duro Inn & Suites and found it comfortable and very easy to access the park from–it's essentially a straight shot down the road from Palo Duro Canyon.
Check rates & book your stay at the Best Western Palo Duro today!
Staying Within the Park
If you'd like to stay inside Palo Duro Canyon, the park has several options to choose from.
You can check for campsite availability (including sites with electricity, primitive campsites, and hike-in campsites) here, and cabin availability here.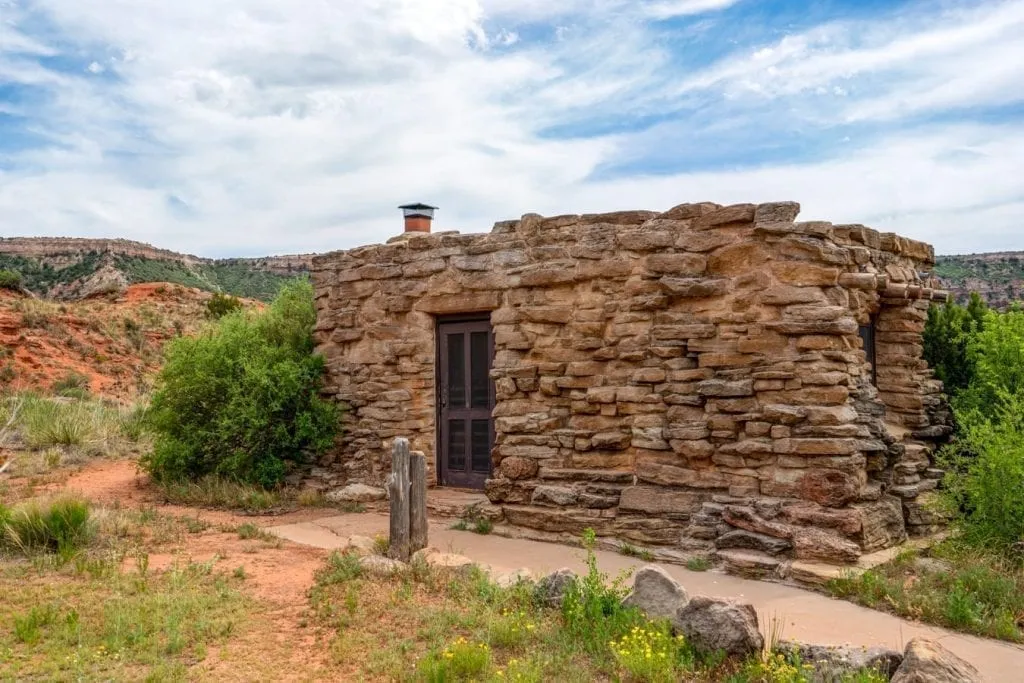 What to See Beyond Palo Duro Canyon
Palo Duro Canyon is located less than an hour away from Amarillo and from the famous Route 66.
While visiting the Grand Canyon of Texas, consider also visiting Amarillo's Route 66 Historic District, checking out the intriguing roadside attraction of Cadillac Ranch, and visiting some of Amarillo's museums like the American Quarter Horse Museum.
How Long to Spend in Texas' Palo Duro Canyon
If you're passing through Amarillo as part of a larger trip, Palo Duro Canyon is well worth visiting for even one afternoon. With half a day in the park, you can take in some of the best views, enjoy one of the shorter hikes, and drive the loop through the canyon.
If you're planning a standalone trip to Palo Duro Canyon and would like to have enough time to take a few different hikes, enjoy several viewpoints, and perhaps add on another fun experience like a horseback ride or a Jeep tour, we recommend planning to spend around 2-3 days at the park.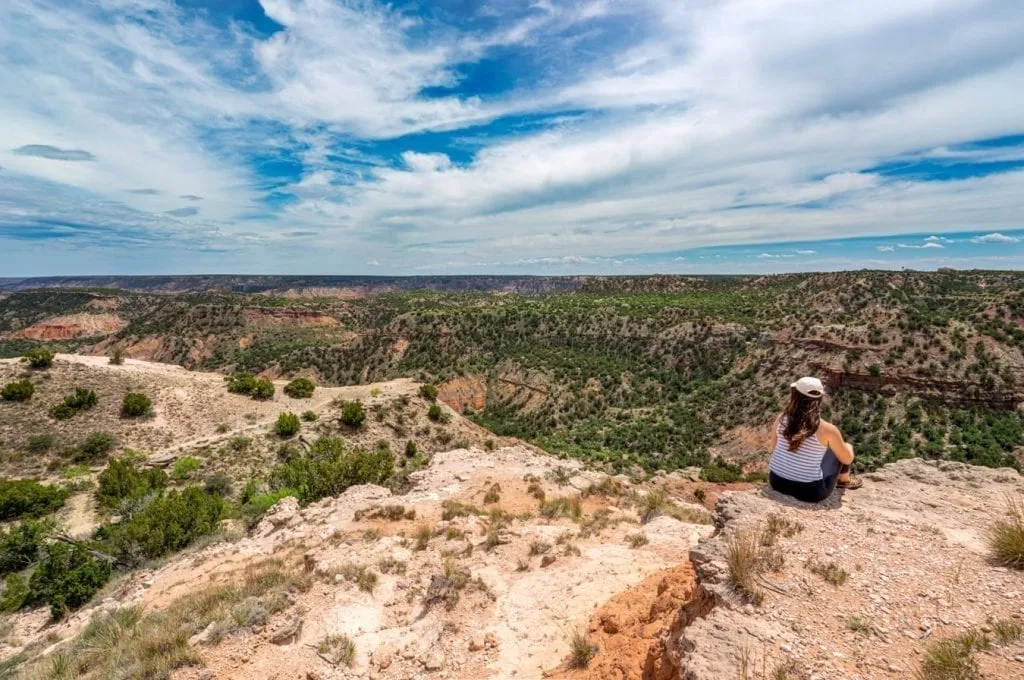 Getting to + Around the Canyon
Without a doubt, you need to take a road trip to visit Palo Duro Canyon–a car is the only practical way to get around.
If you need a rental car, we recommend searching for one through Discover Cars, which will search multiple companies to find the best combination of rental inclusions and price for your Palo Duro Canyon road trip.
Check rates & book your rental car for visiting Palo Duro Canyon today!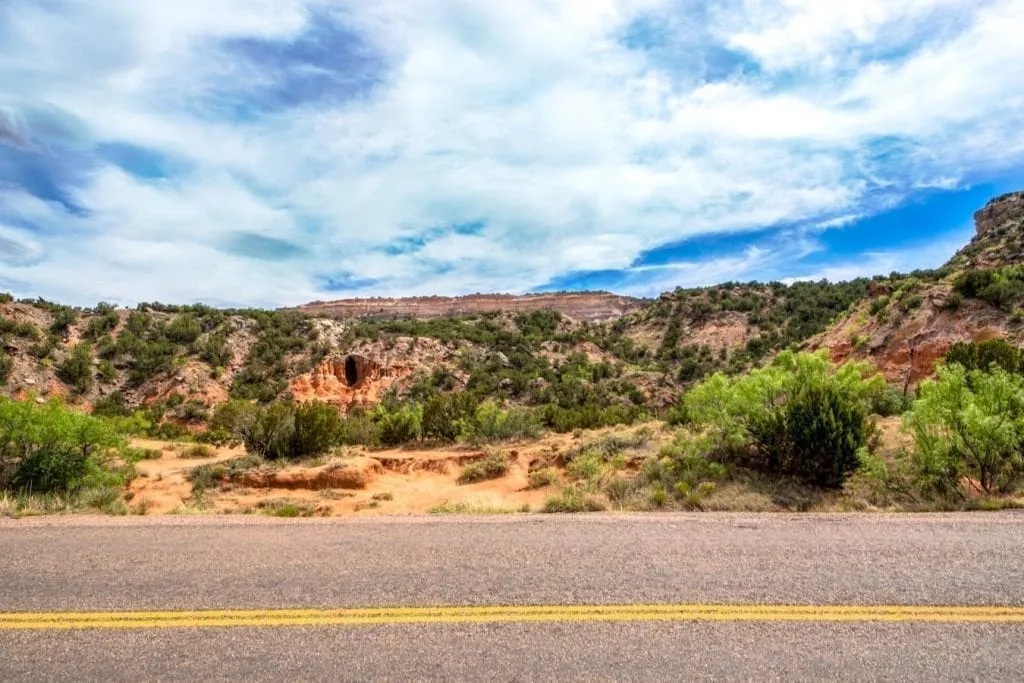 The Best Time to Visit Palo Duro Canyon
The best times to enjoy the bulk of the things to do in Palo Duro Canyon are in the spring (ideally March-April) and the fall (ideally October-November).
Winter can be another fairly pleasant time to visit, with highs generally reaching the high 50s/low 60s during the day–however, the nights can get very cold, and the days will be shorter, so be sure to bring plenty of layers!
During the height of summer, average temperatures soar to the mid-to-high 90s–and remember, the canyon floor can feel around 10 degrees hotter than that, and there is very little shade to speak of in the canyon.
Unless you're used to hiking in the heat of the desert, consider planning your Palo Duro Canyon vacation outside of the summer months.
Cost of Visiting Palo Duro Canyon State Park
As of the time of writing, visiting Palo Duro Canyon State Park costs 8 USD per person, per day. Children 12 and under can visit for free.